Massage and Pain Relief Services for Jacksonville, FL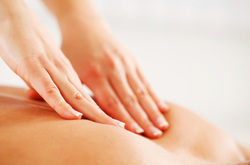 Massage has many benefits. It can not only reduce pain and stiffness, it can improve health and well-being in many ways, from easing anxiety, improving sleep and increasing circulation.

Research has also shown that massage has profound effects with specific physiological and chemical changes throughout the body. Arthritis sufferers note fewer aches and less stiffness and pain; asthmatic children show better pulmonary function and increased peak air flow. Burn injury patients report reduced pain, itching, and anxiety while high blood-pressure patients demonstrate lower diastolic blood pressure, anxiety and stress hormones. Premenstrual syndrome sufferers have reported decreased water retention and cramping.

Massage Benefits

Backache/alleviate low-back pain
Headache/Migraine Headache
Massage Ache
Reduce spasms and cramping
Relax and soften injured, tired, and overused muscles
Promote tissue regeneration, reducing scar tissue and stretch marks
Reduce post-surgery adhesion's and swelling
Lessen depression and anxiety
Increase Joint flexibility
Greater energy
Reduced fatigue
Increased circulation
Enhanced sleep quality
Decreased anxiety

Types of Massage

Swedish Massage: The most common type of massage. Sometimes known as a relaxation massage, this type of massage is a good choice for those who have never tried massage before. This technique uses slow, generally light pressure in rhythmic strokes to aid in the reduction of muscle tension.

Aromatherapy Massage: A Swedish Massage with the additional of essential oils. Essential oils are highly concentrated oils derived from flowers, plants and herbs. They have many beneficial properties, such as aiding in relaxation or invigoration when used during massage.

Bamboo Fusion: Massage using heated bamboo to glide along the muscles. Light, medium or deep pressure may be used based on the clients needs and comfort level. Bamboo allows for uniform, smooth strokes that many find very soothing.

Hot Stone Massage: Smooth basalt stones are heated in a water bath and then placed on specific points on the body that are known to induce deep relaxation. The heated stones are also held in the therapist's hands and are incorporated into the massage.

Therapeutic Massage: Sometimes referred to as a deep tissue massage, a therapeutic treatment generally employs deeper pressure and specific techniques to promote healing in extremely tight and dysfunctional muscles. Some of the techniques that may be used are as follows:

Myofascial Therapy: The manipulation of soft tissue, called fascia, that surrounds muscles and most structures in the body. Restriction or dysfunction in fascia can reduce range of motion. Myofascial therapy and myofascial release techniques can aid in the reduction of this restriction and therefore, may improve range of motion.

Trigger Point Therapy

Trigger point massage, sometimes called neuromuscular therapy, is a very effective way to address those pesky knots that give you both pain at the trigger point itself and often at distant, apparently unrelated areas in your body. You can recognize a trigger point by the way it responds to direct pressure. A trigger point will feel like a little nodule, and it will be tender to the touch, and it may generate discomfort in a different area than where the trigger point is.

If the trigger points are not treated, they can be the culprits in lingering pain even after an injury has healed, and the reason why the headache, neck-ache, and backache keep returning year after year. Some of the causes of trigger point activity in your muscles are stress, excessive chilling, injury, overuse, strain, as well as chemical, drugs, alcohol, and environmental pollutants.

Active trigger points keep the muscles tight, restricting blood flow and compressing nerves perpetuating a vicious pain-spasm cycle in the muscles. The effect of decreased flexibility limits movement encouraging postural patterns which may sustain the cycle for years. Trigger Point Release Therapy is a valuable component of preventive as well as rehabilitative care.

A trigger point is traditional release by apply static pressure by the massage therapist. Release of a trigger point itself is painful. When the massage therapist gets a hold of a trigger point there is usually a surge of pain, but as the therapist holds on, the pain dissipates and the area relaxes and tension is relieved.

---