Get The Pain Relief You've Been Searching For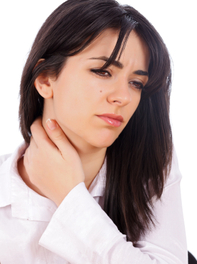 Massage therapy is well known for reducing stress and promoting relaxation. And a growing body of research also shows that massage therapy is effective for relieving and managing both chronic and acute pain.
That's because massage works on reducing overall tension in the muscles and fascia, stimulating the body's natural healing response with increased blood flow, circulation and endorphin production. This helps to ease and sometimes remove the underlying causes of pain.
MPS Therapy for Pain
However, sometimes massage alone can't provide all the necessary relief or the person who is suffering with the pain is too sensitive to being massaged. That's where micro-point stimulation (MPS) therapy can help. Using the Dolphine Neurostim unit created by Dr. Bruce Hocking in 1992, MPS is a new technique that combines the principles of acupuncture and massage with electrotherapy. MPS therapy is successfully helping many people suffering with chronic pain to live normal lives again. MPS therapy starts by deregulating the autonomic nervous system in order to calm the client. Next, the therapist manually realigns the body, and then inspects for paraspinal tissue changes associated with nerve root impingement. Dermatomes, meridians, trigger, motor, and acupressure points relating to the client's injury / pain are then integrated into step-by-step protocols in order to determine and eliminate root causes of the client's pain condition. All without drugs, side effects or messy pads or gels.
Some of the conditions MPS has been effective in treating include:
Anxiety and stress, allergies, asthma, worry, grief, depression, lethargy, arthritis, ankle sprain and strain, abdominal and pelvic pain, back and neck pain, hip and leg pain, edema, whiplash, TMJ, fibromyalgia, neuropathies, migraines, headaches, digestive disorders, obesity, sports injuries, carpal tunnel, post operative radiculopathy, plantar fasciitis, frozen shoulder and shoulder pain, golfer's elbow, tennis elbow, runner's knee, impotence, insomnia, menstrual cramps, menopause, frigidity, sexual disorders, impotence, hyperactivity, multiple sclerosis, renal disorders, sciatica, shin splints, shingles, sinus and thyroid problems, smoking, snoring, and many other neuromyofascial pain syndromes. You can learn more about
MPS therapy here.
There's no reason to suffer needlessly or try to "live" with your pain.
Click here
to
schedule your appointment
or call me at 904-874-8413 today.
---